Do not stand at my grave and weep, I am not there, I do not sleep. I am a thousand winds that blow; I am the diamond's glint on snow. I am the sunlight on ripened grain; I am the gentle autumn's rain. When you awaken in the morning's hush, I am the sweet uplifting rush of quiet birds in circled flight I am the first star that shines at night. Do not stand at my grave and cry, I am not there. I did not die.
-Mary Elizabeth Frye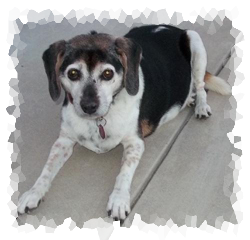 Donation received from Marsha, in memory of her foster dog, Daisy ~ -Daisy was elderly and deaf when her "owners" abandoned her when she needed them the most; my son and his wife rescued her, but were unable to keep her ~ That's when Daisy came to live with me as a "foster" to love and take the best care of until her forever time on earth. Daisy endured severe seizures and it was decided by the local Vet to end her irreversible suffering. I was blessed Daisy came in to my life, even though it was only for one month; and was with her when she passed over to Rainbow Bridge. I miss this sweet soul who touched my heart forever and a day ~ Rest in Peace, Daisy, and know you are loved.
Donation received from Fran Sullivan: "In honor of my dear niece who loves her pets and is a great foster "mom" and dedicated to making sure each dog is safe, well cared for, and adopted in to their forever home. May your organization to continue to keep God's creations happy and comfortable"
~ Thank you in advance for your "in memory" of and "in honor of" donations for your loved one and/or pet and know you are keeping them alive in your heart and soul ~
PLEASE COMPLETE OUR INFORMATION FORM
SO WE KNOW WHO YOUR DONATION IS FOR.

PLEASE USE THIS PAYPAL BUTTON
TO MAKE YOUR DONATION